Old Hickory Buildings is a leader you can trust in the portable storage industry. For 25 years, we have succeeded by providing our customers with dependable storage solutions and a quality buying experience.
Using the old fashioned, country tradition of barn building, we at Old Hickory Buildings and Sheds create quality storage buildings for many happy customers throughout North America. Our factories use the same traditional construction techniques and philosophies handed down from generation to generation among the many Amish and Mennonite communities. In fact, the kind of quality, care, and attention to detail that we put into every one of our barns is how we became leaders in our industry. Our overriding philosophy of quality can be seen in our company's culture every day. From the premium materials we use to the engineer certification process, and from our highly skilled and customer friendly delivery drivers to our knowledgeable salespeople, you can be confident that you'll get the best building for your needs at a price within your budget.
USER-FRIENDLY 3D SHED BUILDER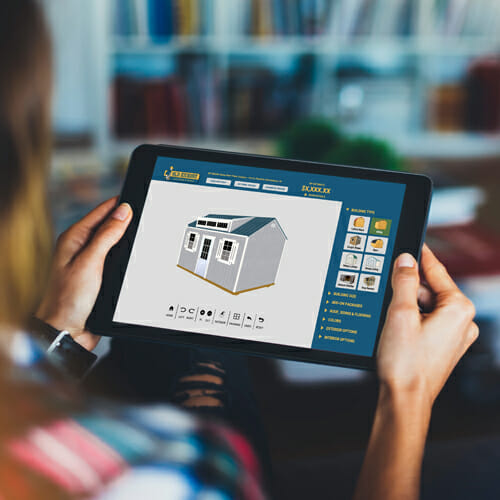 Our proprietary online 3D shed builder is loaded with all our design options and works smoothly on mobile devices and desktops. Because we built our own system, you can be sure the building you design is the building you'll get. Compared to the generic systems shared by other brands, we keep ours fully updated so that it shows the details of what is being designed, ordered, and built.
With over 800 locations in North America, a huge variety of buildings and options to choose from, and an inventory of over 10,000 buildings in stock and ready to deliver, you're sure to get the building you need, when you need it. Walk onto any of our 800 + sales locations and you'll find a welcoming, well-informed dealer ready to answer your questions and help you pick out the backyard storage you need. Getting the right storage building is important. With a consultative sales approach, our friendly dealers make it a priority to find the storage building that fits you and your needs perfectly.
Our professional, on-site salespeople will help guide you through the buying process using our advanced computer order system. Our sleek, modern system leaves no room for error with every custom order being drawn to scale and, with a full 3d rendering of the building, you can see a representation of what your building will look like before you purchase. Not sure how you want to customize your building? Browse through our media gallery or check out our Facebook and Instagram pages for ideas.
Our Quality Buying Experience doesn't just include the purchase of your building. Should you have questions about your building after it is delivered, just give us a call! When you call our office, you'll always be greeted by a real person rather than a pre-recorded voice or a frustrating automated call center. You'll hear the warm and friendly voice of someone who is happy to help.
Our office staff prides itself on finding the answers to our customer's questions and helping them to make informed decisions on the best storage solution for their needs.
ENGINEER CERTIFIED BUILDING DESIGNS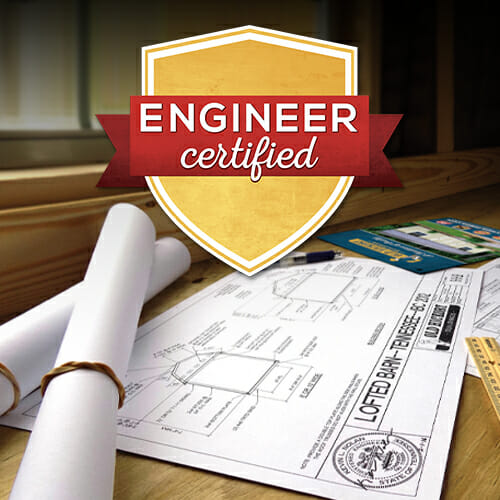 Our Lofted Barns, Utility Sheds, Single Slope Sheds and Non-Lofted Barns are ALL Engineer Certified…so you can have confidence that when you buy an Old Hickory Building, it'll meet International Building Code (IBC) standards for Minor Storage Facilities (Occupancy Category 1).
Engineer Certified buildings are certified for Ground Snow Load and Wind Load as defined by local requirements (once customer supplied anchors are installed). A standard set of engineered plans are available upon request after purchase of a building. We employ a fulltime engineer for quick turnaround for custom plans or custom buildings. Plans do not include anchors, calculations, or elevations. Extra charges apply for custom plans, calculations, or elevations. Wind rating requires customer supplied anchors.
Note: Our buildings are designed to meet IBC standards but are not guaranteed for every local jurisdiction that may have its own unique codes. Our buildings are classified as Minor Storage Facilities (Occupancy Category I) and not intended for other uses.
BUY or RENT-TO-OWN PROGRAM WITH NO CREDIT CHECK
Our convenient purchasing options allow you to pay for your shed or building at the time of purchase or to make monthly payments through a rent-to-own program. Our no hassle terms make getting the storage you need simple and affordable. No credit checks are required with our easy rent-to-own programs.
The low monthly rental rates are comparable to mini – warehousing rates. The no – strings plan allows you to have your own storage facility at your home or business, when and where you need it.
No Strings:

The rental agreement is on a month-to-month basis, meaning you have the flexibility to turn in the building at any time, for any reason.

Early Payoff:

Payoff anytime with no penalty. There is also a discount off the rental balance for those who pay off early. See dealer for details.

90 Days Same as Cash:

If you decide to pay off the building within 90 days, we'll waive the entire cost of lease services.
Once you have found the perfect fit for you, our experienced and trustworthy drivers are ready to bring your building to your property as quickly as possible. With precise skills and years of experience, our drivers have a passion for delivering your building with care, making sure the final step of your Old Hickory purchase is a pleasure.
There is no site preparation necessary, and our free set-up includes leveling, even on slopes of up to 3 feet. One corner is laid at ground level and the others are propped using driver supplied pressure-treated wood shims or customer supplied concrete blocks. Our drivers also bring blocks with them and can supply them at delivery for a small charge.
You can rest at ease knowing that the delivery process will be handled by professionals dedicated to ensuring every customer is completely satisfied with the placement of their building. As with every step when buying an Old Hickory building, our delivery process is a High Quality Experience.
Delivery Details
NO SITE PREPARATION NECESSARY if the site is accessible by truck and trailer and the site is NO MORE THAN 3 FEET OUT OF LEVEL.
FREE SETUP includes leveling with customer supplied concrete blocks and driver supplied pressure treated shims. Drivers can supply concrete blocks.
FIRST 30 MILES FREE: Over 30 miles subject to additional charge.
BUILDINGS ON SALES LOTS: Can USUALLY be delivered within 5 – 7 days. [WEATHER PERMITTING]
ORDERED TREATED BUILDINGS: Can USUALLY be delivered within 30 days. [WEATHER PERMITTING]
ORDERED PAINTED & METAL BUILDINGS: Can USUALLY be delivered within 30 days. [WEATHER PERMITTING]
NOTE: Peak season, poor weather conditions and material shortages can add extra time on to the normal delivery time. Lead times may vary; delivery times do not apply to build on site buildings.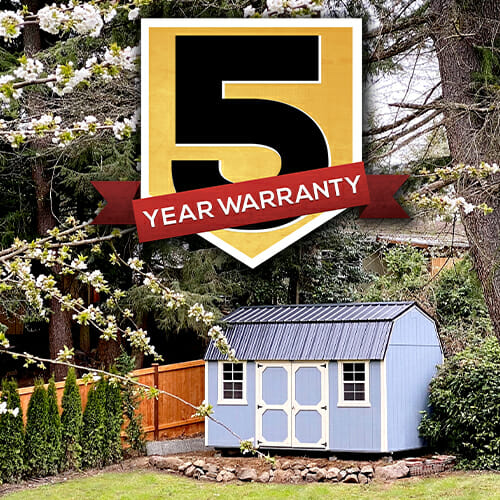 We offer you peace of mind – with a limited 5 – year warranty backed by a company that has been in business since 1997, you can trust that Old Hickory will be there if you need them, and with our warranty written, there will be no surprises in the rare event of a claim. Click here to view our written warranty.
LIMITED LIFETIME WARRANTY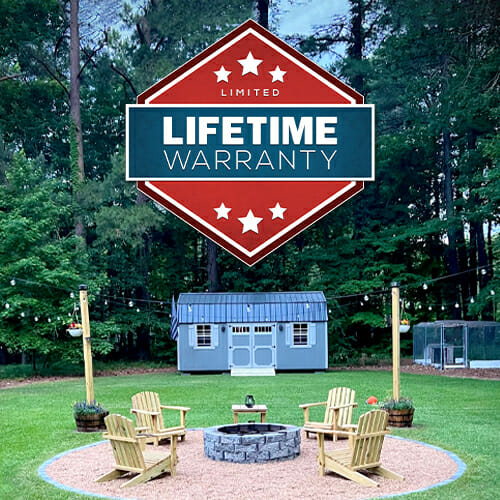 We offer a Limited Lifetime Warranty against termite damage & fungal decay on all pressure treated wood, including Pressure Treated Skids, Floor Joists (On All Models), Optional Pressure Treated Flooring, Optional Pressure Treated T1 – 11 Siding.
was more than pleasantly surprised when I had the opportunity to watch Mr. Unruh begin constructing the building and then view the end results. The work was professionally accomplished, and the finished building far exceeded my expectations. His responses to my questions during the process were complete and informative. The overall experience was such that I felt compelled to draft this favorable response to Old Hickory Buildings. Mr. Unruh represented both Old Hickory and himself exceptionally well. Thanks again to Old Hickory and Mr. Unruh for a job well done!
We bought one of these in the Fall of 2018 and love it. The building is top notch as far as quality. It's 100% real wood, none of that pressed or corrugated wood you get with other storage buildings. The people that own the company are great to work with too. Highly recommended! A+++
Bought a 10 x 16 Lofted Barn. I live near the Atlantic Coast, so the building needed to be extra strong for our required wind code. The building is very well built, 16 in. centered studs, double top plate and certified for 150 MPH winds. I would definitely buy from them again.
This company is amazing. Great staff, great product! They actually answer the phone!!! Customer service is unlike anything you've ever seen before.
Our experience with Old Hickory Buildings was amazing. Our Utility building was built exactly as we wanted. Our double gate was barely wide enough for the trailer, but our driver was a rock star! My hubby has a place to sneak a cigar, and it looks great in our backyard!!
Fantastic products and fantastic people. From the salesman on the lot, to the delivery driver, old hickory offers a great experience. I will be sure to tell anyone who needs some extra storage to go to Old Hickory first!