We want to hear from you! Old Hickory is a company that's run by real people and we enjoy providing our customers with a quality shed buying experience. If you're in the market for a shed and have questions, our local dealers are shed experts and they're ready to help you out. If you just want some information and pricing but you're not ready to talk to somebody, just download our brochure. If you have some feedback for us or need to file a warranty claim on your shed...our home office is ready to help. We're also always looking for good people to join our team as new dealers, drivers, builders, or in the home office. No matter what the subject...we've got real people ready to help.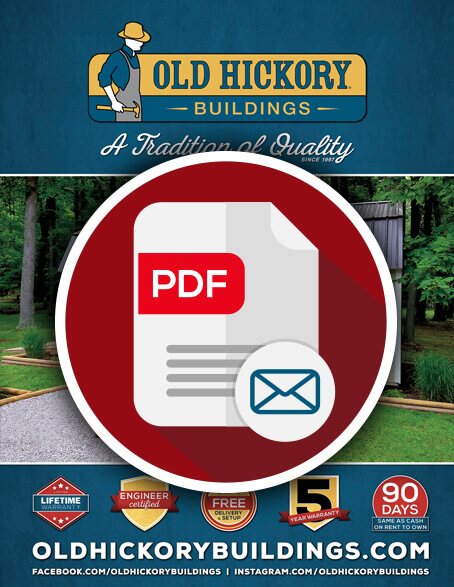 Includes all products, descriptions, options and pricing for your area based on your zip code. Enter your name, email address and zip/postal code and click the download button to view a brochure with pricing.
Old Hickory Buildings & Sheds has over 800 locations in North America, including the Unites States and Canada! Enter your Zip/Postal Code or City and State/Province to locate the dealer nearest you.
Our ever-growing team consists of highly skilled builders, knowledgeable sales dealers, friendly, trained delivery drivers, and dedicated, detail-oriented office staff, all working together with the goal of providing you with the best quality buying experience in the industry. Click on the link below to find out more about opportunities within the Old Hickory network.
Old Hickory Buildings and Sheds has a long-standing reputation for superior craftsmanship and quality.
We offer you peace of mind with a limited 5-year warranty backed by a company that has been in business since 1997, you can trust that Old Hickory will be there if you need us. With our written warranty, there will be no surprises in the rare event of a claim. We also offer a Limited Lifetime Warranty against termite damage & fungal decay on all pressure treated wood, including Pressure Treated Skids, Floor Joists (On All Models), Optional Pressure Treated Flooring, and Optional Pressure Treated T1-11 Siding. If our products or services do not meet the standards established in these written warranties, let us know by submitting a claim.